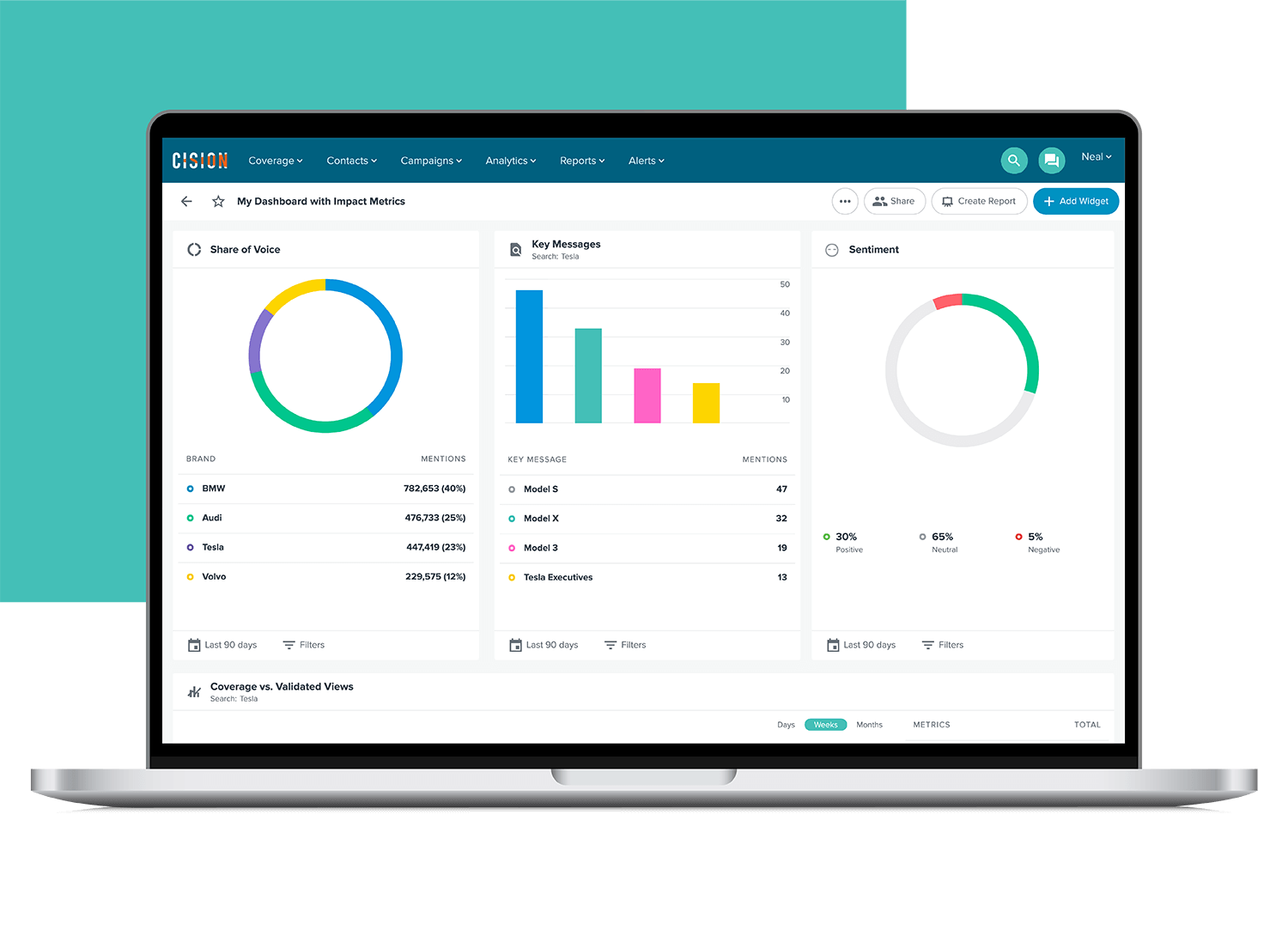 More Than Simply Numbers, Discover What Actually Leads to Successful Results
Say you've connected with the right influencers, sent out a press release and generated media attention. But then what?
If you have the data to see how many people you're reaching, what they're saying about your content and what they're doing, you get valuable information. It gives you ideas and allows you to create more effective campaigns.
That's where Cision's personalized monitoring and analytics platform comes in.
Request a Demo
See the Metrics That Matter and Process It Into Ready-to-Use Reports to Present to Your Team, Management or Board
Dynamic data
Compare performance over a period of time to understand the effectiveness of your campaigns. Track domain authority to see how many people you are actually reaching. 
Holistic overview
With over 100 million data sources available, you'll never miss a mention of your brand, relevant topics on news and social media sites and other digital channels. 
Competition analysis
See how your brand is doing compared to the competition and discover exactly where the opportunities exist. 
Interactive reports
With one click, you turn your Cision dashboard into beautiful reports that you can easily download or share via a simple URL.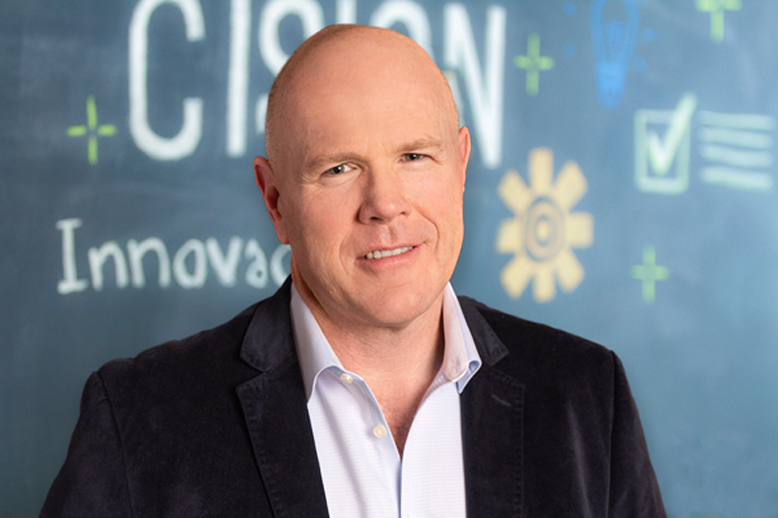 When you have all the data, you can achieve anything.
We know that PR professionals need more than just a broad reach. There are millions of websites that are not relevant to your brand or topic and therefore not worth your time. With our Monitoring and Analytics, you have the data you need to easily identify the most appropriate influencers and websites to tell your story to. This way you can set up more successful campaigns and achieve your desired results. 

Jay Webster
Chief Product Officer, Cision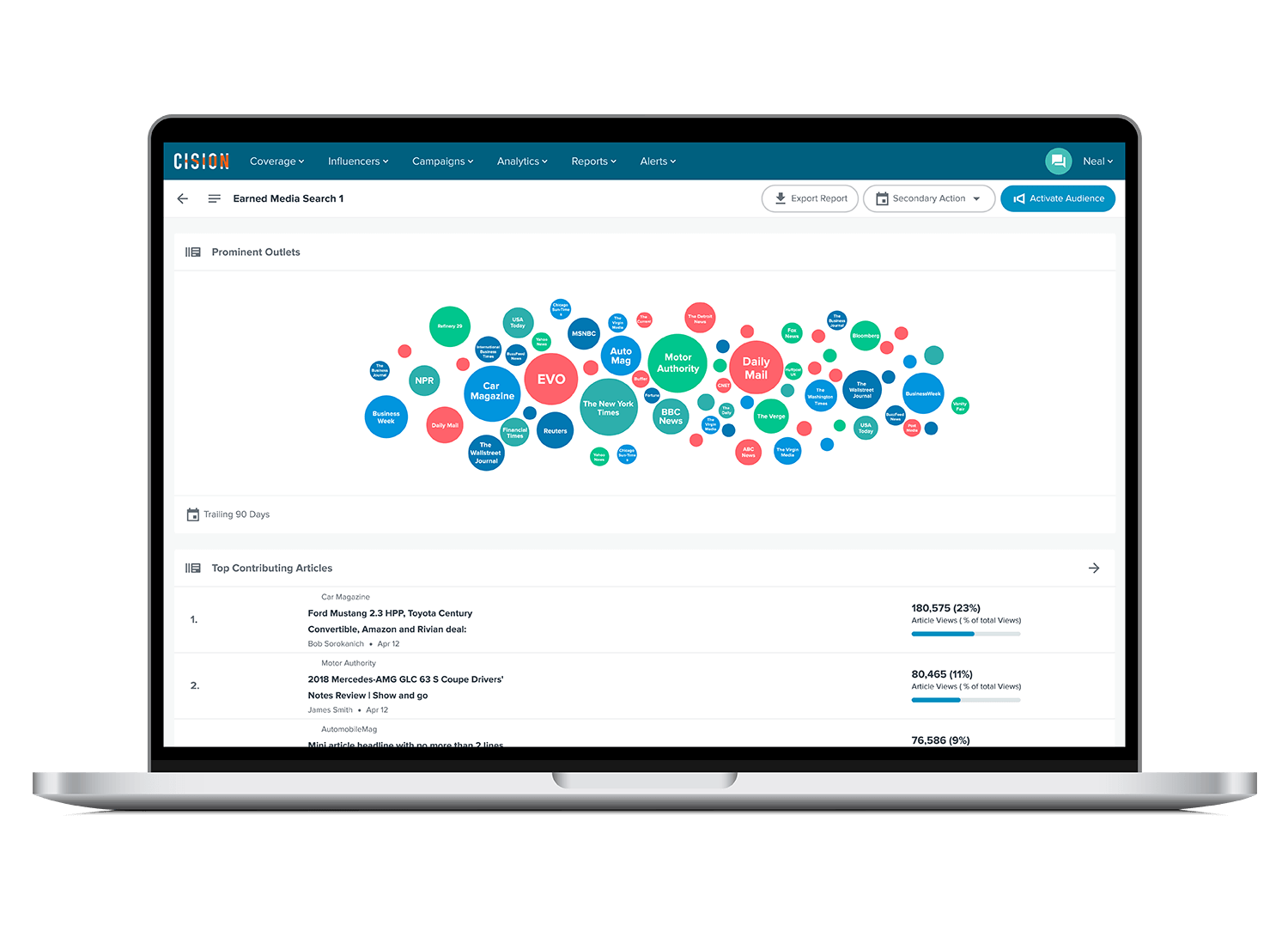 Discover the Power of the Cision Communications Cloud
Media monitoring and analysis are just one part of the complete Communications Cloud. When you combine the deep data dive with the most comprehensive database of journalists and influencers and a true media relations management tool, you can achieve amazing things. 
Discover How These Disciplines Converge in the Communications Cloud
Media Monitoring
Get the Complete Picture of Your Brand Reputation
Cision has access to the most complete collection of global online news, blogs, print and broadcast channels. Combined with the billions of conversations that take place on social media. Cision monitors it all to help you get the complete picture of your organization's reputation. 
Get a comprehensive view on our media monitoring solutions
What Are People Saying About Your Brand on Social Media? We Got You Covered!
Leverage our AI-based deep social listening to understand what's being said about your brand, products and industry across digital channels worldwide. Within minutes, statistics appear in your dashboard that you can use to manage your brand reputation, capitalize on trending topics and develop smarter communication strategies. 
Get real-time and historical insights with Cision Social Listening powered by Brandwatch. 
Earned Media Analytics
Find Out How Your Brand Connects
You already know that the success of a campaign depends more on quality than quantity. It is important to know the influence the outlets you are reaching actually have. Our best-in-class digital reach and amplification make this possible.
Cision goes beyond just counting clips. Create valuable business results from your earned media.
Alerts!
Immediately Aware of a Crisis or Opportunity
Those who claim there is no such thing as bad advertising may never have experienced it. Be the first to know about the latest news about your brand. Cision's Real-Time News uses algorithms to detect anomalies and alert you to unusually high activity. This could indicate a potential crisis situation or, for example, positive coverage around a company announcement. Set up your alerts and stay informed with your team via email or Slack.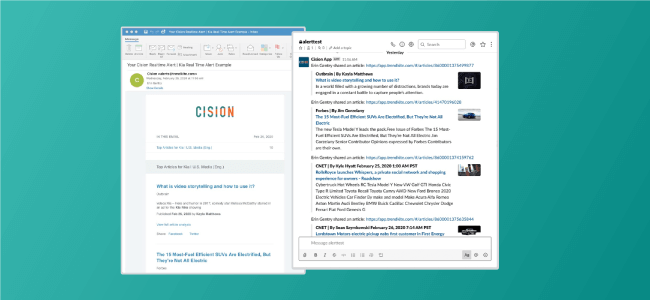 IMPACT
Show Your Impact
With Cision Impact, we take analytics to a whole new level by linking earned media to business results. In addition to information about who is reading about your brand in earned media, you can also see how many visitors your website has and what they are doing next. Automatically prove the value you deliver to your organization while focusing on the influencers and websites that generate the desired business results.
Unveil Your Impact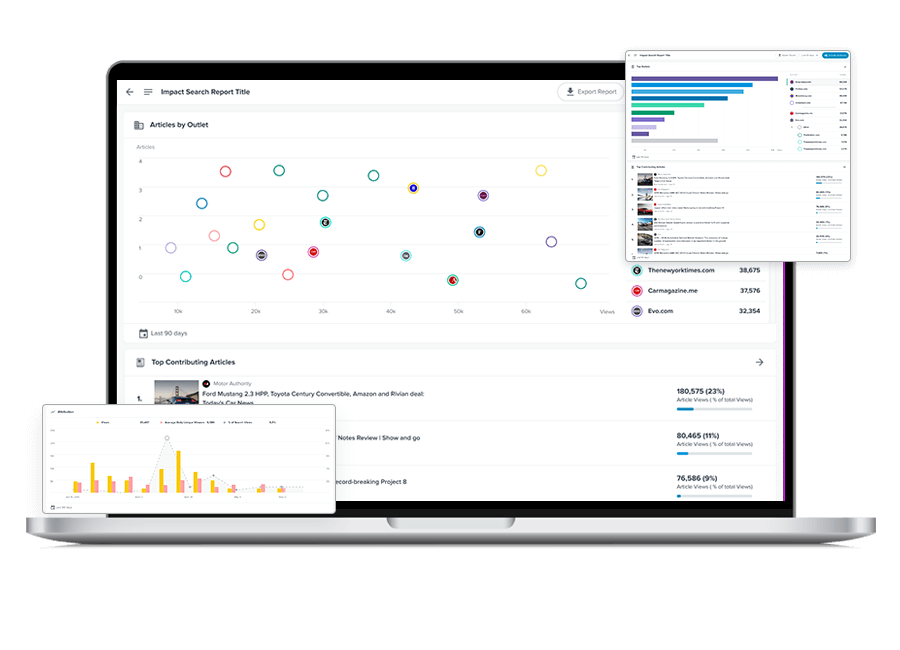 Reports
Share and Celebrate Your Achievements
The work is done. You've sourced, evaluated and improved the right information. Now use Cision's interactive reports, alerts and integrations to show colleagues, stakeholders and executives your earned media achievements. 
Cision Reporting Overview
Interactive Reports
With a simple click, you can turn your Cision dashboard into beautiful streamlined reports to download or share via a simple URL. 
Google Analytics and Adobe Analytics
Discover the effect of earned media through your website traffic, user behavior and goal conversions by integrating your Google Analytics or Adobe Analytics account. 
API
Integrate earned media results into overall marketing and business metrics. Incorporate earned media tracking into internal reporting structures with a fully customizable REST API that integrates with business intelligence software such as Tableau, PowerBI, Domo and more.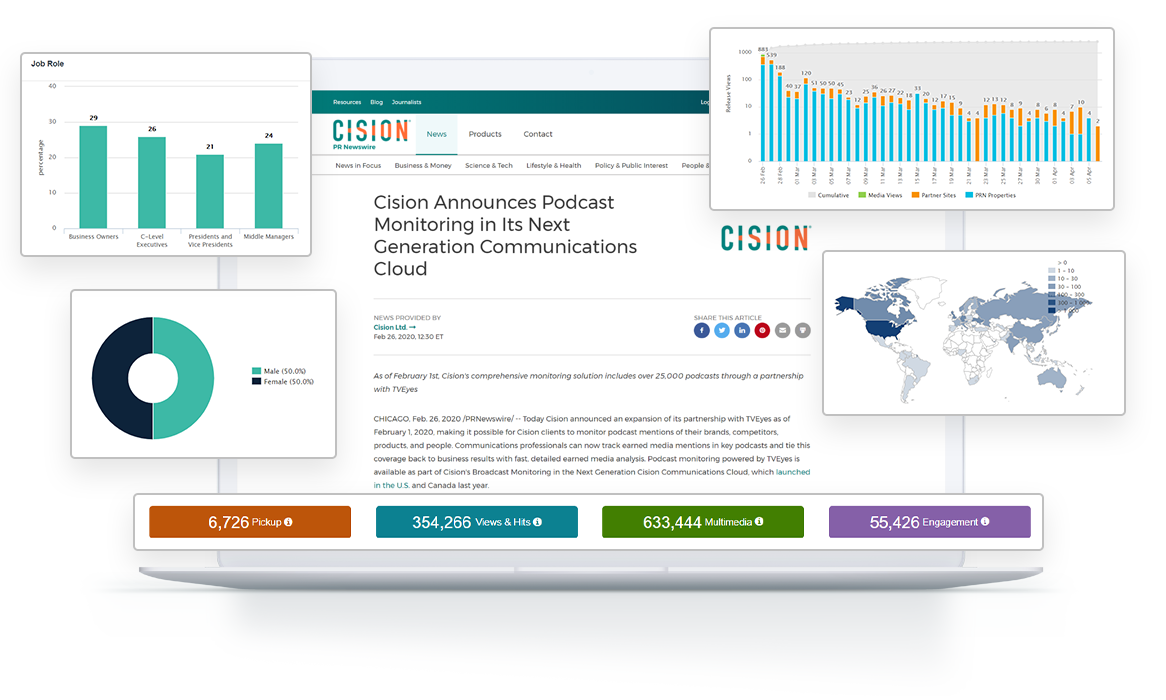 Get More People to Talk About Your Brands Thanks to Better PR Distribution
Want to generate more reach? Press distribution through PR Newswire, part of the Cision suite, allows you to bring your story to the attention of the right editors, journalists and influencers from the world's most trusted distribution service.
Explore the PR Newswire global network
Meet Your Extended Team
We understand that you are busy. Our team of specialists can create daily newsletters, alerts and in-depth analyses for you on topics that concern you and your organization. This way you'll get the exact statistics you want.  
We also offer numerous free resources to support you when and where you need it. 
See how we support PR pros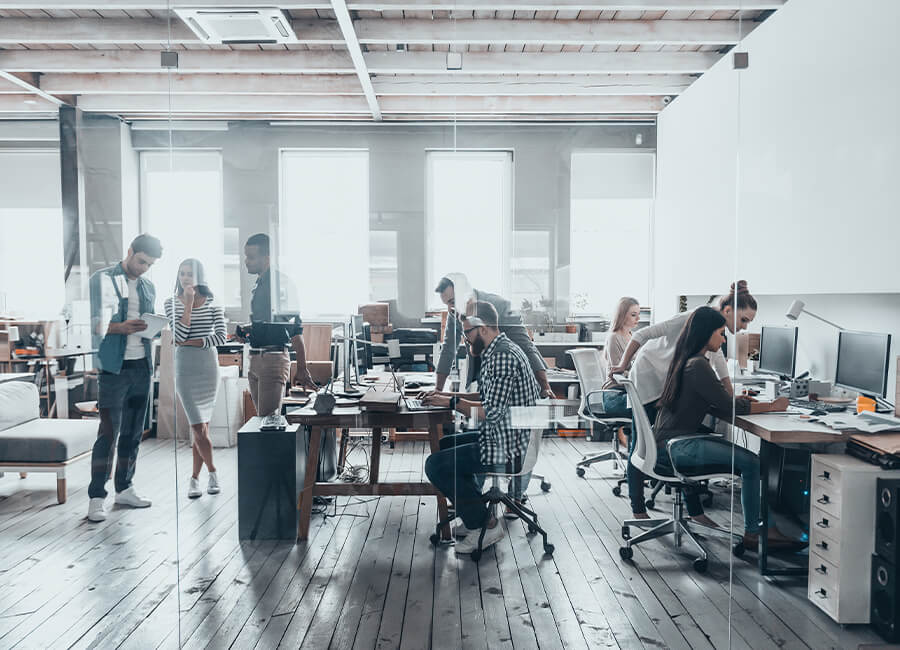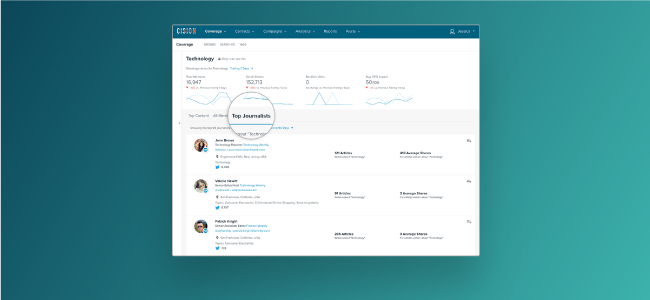 Monitor, Analyze and Achieve More
Our comprehensive and easy-to-use platform is designed specifically for someone like you. Connect with an expert in PR technology and discover how Cision can be your own personal database.